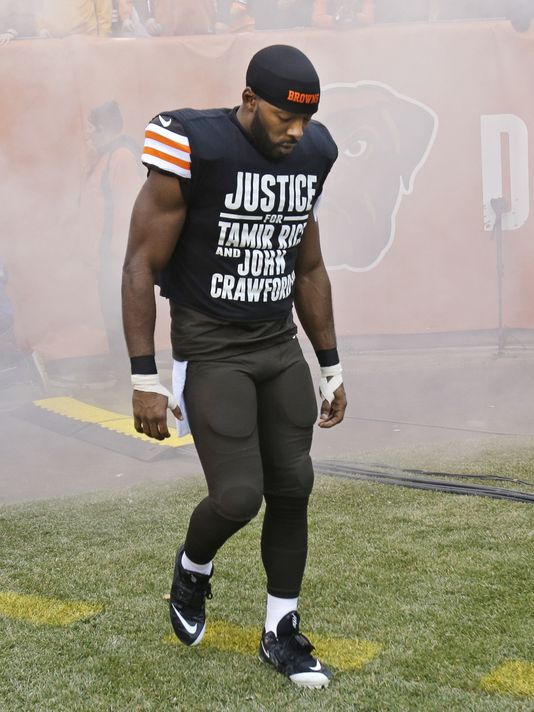 This happened last weekend and while I heard about it, I had not heard that horrible president of the Cleveland Police Patrolmen's Association open his fat mouth and talk about this issue. He showed no respect or remorse for the loss of Tamir Rice's life in TWO seconds…two f'ing seconds by some cop not even fit to be a cop. Andrew Hawkins you are a great American….Jeff Follmer YOU ARE NOT!
LG
The president of the police union in Cleveland, Ohio, said over the weekend the "Justice for Tamir Rice" shirt worn by football player Andrew Hawkins was "pathetic."
Hawkins, a wide receiver for the Cleveland Browns, dressed in a shirt that read, "Justice for Tamir Rice and John Crawford III" on the front, and "The Real Battle for Ohio" on the back, during pre-game warm-ups on Sunday. Twelve-year-old Rice was shot by police outside of a recreation center in Cleveland on Nov. 22 for holding what was later determined to be a toy "airsoft" gun. Crawford, 22, was fatally shot by police for carrying a toy gun inside an Ohio Wal-Mart in August.
Jeff Follmer, president of the Cleveland Police Patrolmen's Association, reportedly said that Hawkins' shirt was disrespectful, and demanded an apology from the football team.
"It's pretty pathetic when athletes think they know the law. They should stick to what they know best on the field. The Cleveland Police protect and serve the Browns stadium and the Browns organization owes us an apology," Follmer wrote to a local ABC News affiliate. The police union didn't immediately respond to msnbc's request for comment.
Video and more on story from MSNBC
Posted by Libergirl