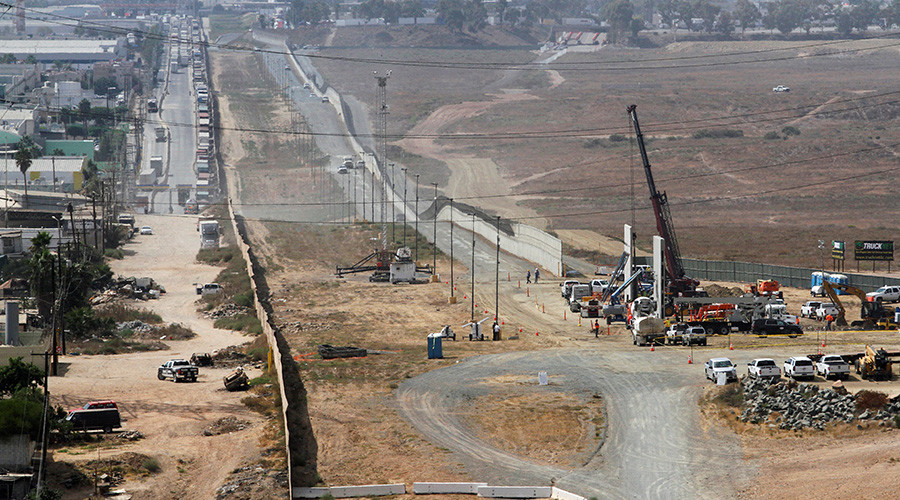 © Jorge Duenes / Reuters
 A House panel has approved legislation to provide a total of $15 billion for construction of President Donald Trump's wall along the US-Mexico border and improve ports of entry into the US.
The Border Security for America Act, proposed by Chairman of the the House Homeland Security Committee Michael McCaul (R-Texas), was approved by the committee in an 18-12 vote along party lines Wednesday.
The bill would authorize $10 billion for construction of the border wall, and another $5 billion to improve ports of entry. The bill would also add 5,000 Border Patrol agents and 5,000 Customs and Border Patrol (CBP) officers.
"We have been talking about border security for many years. Now that we finally have a partner in the White House who has prioritized this issue, it's time for Congress to do its part and get the job done," McCaul said in a statement.
In addition, the bill would authorize the federal government to reimburse states up to $35 million to use the National Guard in support of border security. Federal agents also would be prohibited from restricting CBP activities on federal land within 100 miles of the border. The bill would also create a Biometric Entry-Exit System at all air, land, and sea ports of entry to identify immigrants who overstay their visas.
There are currently 68 Republican co-sponsors in the House and a number of law enforcement and border organizations have endorsed the bill.
The Border Trade Alliance said that the bill "wisely seeks to ensure that our international borders with Canada and Mexico have the personnel necessary to process legitimate cross-border trade and travel securely and efficiently."
The Federal Law Enforcement Officers Association said that the legislation "makes improvements to our border security through strengthening physical structures, updating administrative processing, employing state of the art technology, expanding surveillance, and adding to enforcement personnel."
Democrats, however, strongly oppose the border wall and many see this bill as a political move by Republicans to appease President Donald Trump, who made constructing the wall a major campaign promise.
"To waste this money on basically a campaign promise is pretty disgusting," said Rep. Nannette Barragan (D-California), a committee member, according to The Hill.
Democrats are also concerned that the bill will be attached to legislation that would turn the rescinded Deferred Action for Childhood Arrivals (DACA) program.
After Republicans met with Trump at the White House on Monday, Senator Tom Cotton (R-Arkansas) said that "the president was very clear" on what he wants from Congress on DACA.
Cotton said that any efforts to codify DACA "ought to include some kind of enhanced measures, whether it's on the border or interior enforcement or what have you."
Off the wall: Trump denies agreeing to DACA deal, despite Democrats' claim — RT America
US President Donald Trump has denied reaching a deal which would see young immigrants protected from deportation without his proposed border wall as a condition. It comes despite a claim to the…
Rep. Filemon Vela (D-Texas), Ranking Member of the Border and Maritime Subcommittee, proposed several amendments to the bill, including withholding funds from the border wall until the Mexican government agrees to reimburse the US for the costs as well as an amendment that would prohibit the federal US government from seizing private property along the border "without truly providing just compensation to property owners."
"Put simply, the legislation under consideration today is an offensive joke and a fiscally irresponsible mess," Vela said in a statement. "It insults border communities, threatens private landowners, and would devastate the wildlife of the Rio Grande Valley."
"I appreciate the gentleman's creativity in this amendment and sense of humor, but I will oppose this amendment," McCaul said, according to The Hill.
However, the committee did adopt amendments introduced by Rep. Will Hurd (R-Texas), whose district includes more than 800 miles of the US-Mexico border. The amendments would prevent construction of the wall in Big Bend National Park and other areas "where rough terrain, natural barriers, and the remoteness of a location render a wall or other structure impractical and ineffective."
From RT
Posted by The NON-Conformist