A review of the Facebook accounts of thousands of officers around the US — the largest database of its kind — found officers endorsing violence against Muslims, women, and criminal defendants
When an armed, would-be robber backed out of a liquor store after the clerk pulled a gun on him, the surveillance video was posted on Facebook with a comment: "Should have shot him."
Another commenter responded, "I would of pulled the trigger."
These comments weren't from your everyday Facebook users. They were the words of Philadelphia police officers.
Local law enforcement departments across the country have grappled with officers' use of social media, often struggling to create and enforce policies that restrict offensive speech.
The North Charleston, South Carolina, police department fired an officer for posting a photo of himself wearing Confederate flag underwear, days after a white supremacist killed nine black worshippers at the Emanuel African Methodist Episcopal Church just miles away. He later settled a wrongful termination suit.
The Chicago Police Department has tried unsuccessfully to fire an officer whose own commander complained of his "bigoted views." A Facebook page called Chicago Code Blue attracted attention for inflammatory comments — such as "Every Thug Deserves a Slug" — after an officer was found guilty in the death of Laquan McDonald.
Police officers saying bigoted and racist things online has been an issue since the beginning of social media. The behavior was especially scrutinized after the Black Lives Matter movement blasted into the national conversation — and that scrutiny has continued even after that movement began grappling with its future. What was never really captured was the scope of problematic online posts from police officers.
But a new review of police behavior on Facebook documents the systemic nature of the conduct across several departments. The Plain View Project, launched by Philadelphia lawyer Emily Baker-White, examined the accounts of about 2,900 officers from eight departments across the country and an additional 600 retired officers from those same departments. She compiled posts that represented troubling conduct in a database that is replete with racist imagery and memes, and in some cases long, vitriolic exchanges involving multiple officers.
The project sought to compile posts, comments, and other public activity that could undermine public trust in the police and reinforce the views of critics, especially in minority communities, that the police are not there to protect them.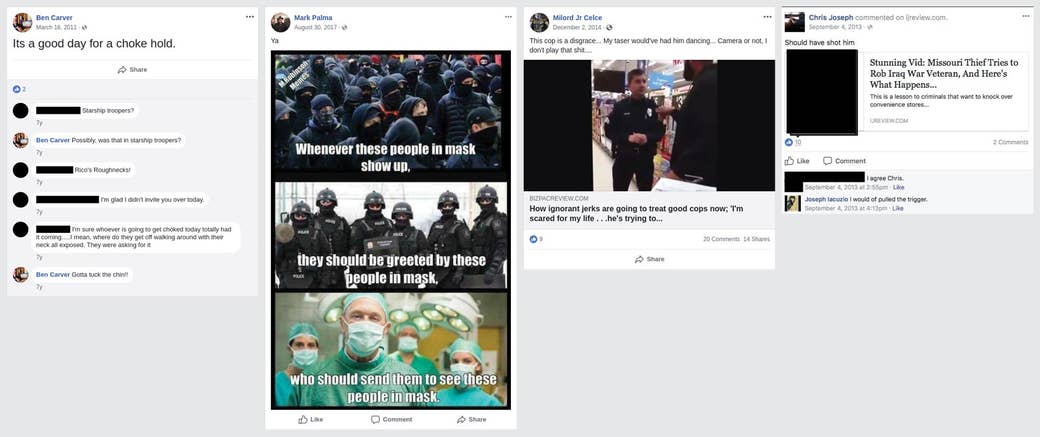 By Emily Hoerner, Rick Tulsky/Buzzfeed/
fullstory
Posted by The non-Conformist